Clean & Safe certified
Hotel Termas da Curia is housed in a 14-hectare property that includes the Termal complex and the Park. Surrounded by the green of Nature, the blue of the thermal waters, here, the ease of maintaining physical distances has always been an intrinsic characteristic, not an imposition. It is part of the Nature that surrounds us ...
Ample spaces in the Hotel and the Spa to enjoy all our services, but also, ample spaces outside, in the Parque das Termas da Curia to enjoy the mild climate and the proximity to nature, in the middle of the trees or in the middle of the lake …
Tranquility to let time run, like water flowing from the fountain ...
Everything to make you and your family feel safe, relaxed and enjoying
We have taken all measures to combat the spread of Covid 19 and are prepared to receive it:
· Because we have always been dedicated to Health due to our Thermal vocation, we have technical experience and high standards of hygiene and safety that we have now raised to meet new needs;
· Our entire team is prepared, trained and we carried out serological tests to ensure the safety of everyone;
· We reduced our offer (available accommodation) to almost half of our capacity to guarantee a complete response to all hygiene and physical distance recommendations;
· Our ample dining spaces ensure the distance between guests and allow us to "reserve your" table, for all meals, throughout the stay, for greater safety and comfort
· Reinforced outdoor pool water treatment system, with constant and regular measurements to ensure maximum safety.
· We increased the distance between hats and loungers in the pool, to promote the recommended distance.
We implemented all the necessary measures to be certified with the Clean & Safe seal of Turismo de Portugal, namely:
· Intense training for our team on internal protocols and prevention.
· Compliance with all DGS rules and recommendations regarding Accommodation, Restaurants and Thermal Tourism.
· Personal protective equipment for the entire team, as well as all guests who need it, as well as dispensers of antiseptic solution in the recommended places.
· Constant procedures and routines for disinfecting surfaces where guests circulate with appropriate cleaning material, reinforcing the team affected by the task.
· Reinforcement of utensil hygiene, using more disposable utensils, for single use.
· Housing cleaning protocols, thermal complex and all public spaces according to the rules issued by the DGS
At Termas da Curia, taking care of the health and physical and emotional well-being of all who visit us is part of our genesis, our origins. Doing it safely has always been part of our mission, our reason for being, of existing.
Compliance with these new standards is not a "new" obligation for us. It is part of "who we are". Taking care of each other is the key to overcoming any adversity. This one we are going through, however challenging it may be, is no exception.
Count on an attentive staff that will make you feel that you have, at Termas da Curia, a haven of Tranquility, Health, Well-Being and Safety
#it's gonna be okay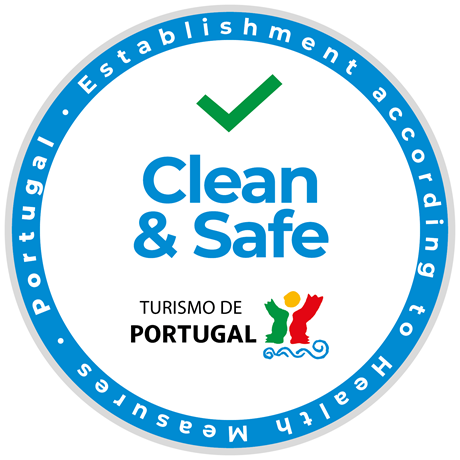 Useful links:
DGS recommendations for hotels and accommodation
DGS recommendations for food and beverage establishments